Organic Waste
Find your zone and schedule
Holiday schedule
Collections scheduled on December 25 will be postponed to December 26. There will be no collection on January 1.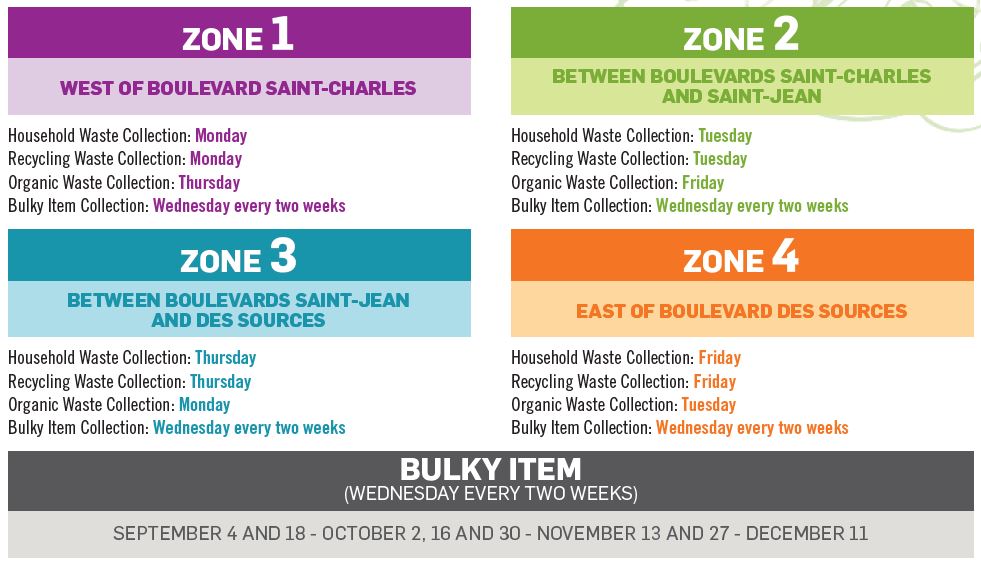 Schools, businesses and public institutions wishing to take part in the organic waste collection must contact the Éco-quartier. This collection is not available for residential housings of 9 units and more.
Important:
The green waste and dead leaves collection is now included in the organic waste collection. Waste must be put in the brown bin or in paper bags, cardboad boxes or any other reusable container.
When to take out your bin
Your bin must be out between 7 p.m. and 7 a.m. (9 a.m. for businesses and public institutions).
Moreover
• The bin must be placed at the curb, in front of the building, in your driveway, as close as possible to the street or sidewalk.
• Wheels and handles must be facing your home;
• never place the bin on the sidewalk or in the street;
• do not put the bin on snowbanks;
• use paper bag or cardboard for excess green waste (including green leaves);
• your bin should be easily visible and accessible to the operator.
Important
Misplaced bins will not be collected. Plastic bags are not accepted and will not be collected.
What GOES in your brown bin?
• Cooked, raw or outdated food: fruits, vegetables, poultry, meat, bones, eggshell, pasta, starchy food, rice, bread, coffee grounds, cheese, etc.
• Paper and stained cardboard: newspaper, tissue, paper towels, pizza boxes, muffin mold, ordered food box (e.g. St-Hubert), etc.
• Green waste and dead leaves: garden and fruit tree residues, dead leaves, twigs, branches less than 5 cm in diameter and 1 m in length, etc.
• Others: ashes, animal food, hair, feathers, etc.
DO NOT put in your brown bin
Recycling waste, plastic bags (including decomposable and biodegradable plastics), diapers and sanitary napkins, animals litter, vaccum cleaner dust.
For more information about accepted and refused waste for the organic waste collection, consult theses websites.
Ville de Montréal
Information on organic waste
Éco-quartier
http://www.eqpr.ca/

Did you know you can get free compost?
All Montrealers are eligible to receive free compost, produced from the green waste collection. Twice a year, the Ville de Montréal organizes distributions to different locations on the territory, residents can come and leave with fresh compost.
Find the next dates and distribution sites by calling 311.
For more information about the free compost program, Ville de Montréal. (French only)
Are you interested in home composting? Learn more about this new popular practice, here. (French only)