Public meetings of the Council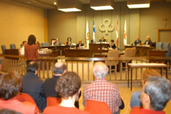 Public meetings of the Council are held every first Thuesday of each month, at 7:30 p.m., in the council room at Borough Hall, 777, boulevard Marcel-Laurin.
This room is equiped with a system for the hearing impaired so that they can follow the sessions using a receiver tuned to 106.9 FM. Three receivers are available for citizens
Residents are invited to participate in the meetings, within two questions periods: one half-hour at the begenning of the meeting and an unlimited period at the end.
Meeting calendar for 2019
January 8, 2019
February 5, 2019
March 5, 2019
April 2, 2019
May 7, 2019
June 4, 2019
June 25, 2019*
August 6, 2019
September 3, 2019
October 1, 2019
November 5, 2019
December 3, 2019
* New schedule