Aréna Raymond-Bourque
Contact info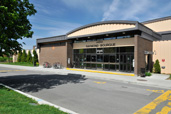 Aréna Raymond-Bourque
2345, boulevard Thimens
H4R 1T4
Phone: 514 956-2580
Schedule
Arena
Monday to Sunday, from 7 a.m. to 11 p.m.
Administrative offices
Monday to Friday, from 8:30 to 12 p.m. and from 1 to 4:30 p.m.
Services
Open skating
Open hockey
Special events
Sports events
Meeting place for various clubs and associations
Admission fees
For admission fees, click here.
Reservation
To reserve an indoor or outdoor facility or a room, call 514-956-2580, ext. 4700.
Cancellations
Cancelled days for open hockey ( September 5, 2017, to March 29, 2018)
- November 10, 2017
- February 22, 2018
- February 23, 2018
- February 26, 2018
Cancelled days for open skating (September 6, 2017, to March 25, 2018)
- November 8, 2017
- November 11, 2017
- November, 12, 2017
- December 10, 2017
- January 13, 2018
- January 14, 2018
- January 17 2018
- January 20, 2018
- January 21, 2018
- February 24, 2018
- February 25, 2018