At the Aréna Raymond-Bourque
Open skating and hockey
(Between September and April)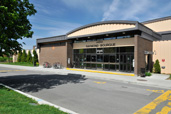 At the Aréna Raymond-Bourque, several hours of ice time are available each week between September and April for indoor skating or open hockey.
For a schedule of available times, call 514-956-2580.
For contact information, schedule and cancelled days, click here.
Admission
Open hockey
For all: $5 with carte-loisirs or $6 without carte-loisirs. Maximum of 25 participants.
Helmet with a complete facemask, a neck-protector, and hockey gloves are mandatory.
Contact is prohibited.
Open skating
Child: $2 with carte-loisirs or $3 without carte-loisirs
Adult: $3 with carte-loisirs or $4 without carte-loisirs
Free on Wednesday night with the carte-loisirs
Special schedule for School Break Week
Training for Toddlers