Musée des maîtres et artisans
Contact info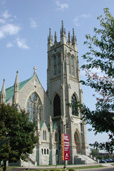 Musée des maîtres et artisans du Québec (MMAQ)
615, avenue Sainte-Croix
514 747-7367
Mission
The mission of Musée des maîtres et artisans du Québec (MMAQ) is to promote the ingenuity of creators of hand-made objects in Quebec.
Its artistic objectives are to increase awareness of traditional crafts and crafting practices, as well as contemporary crafts and contemporary art. Also, the Museum gives a large place to the artistic and craft expressions of the different cultural communities that are a part of its local population and reflect the image of Canada.
The Museum's orientation towards the accessibility of information make it an important educational institution that reaches schools and students.

Schedule
Business hours:
Wed to Sun 12 to 5 p.m.
Groups by reservation:
Mon to Fri 9 a.m. to 4 p.m.
Admission
18 and +: $7
Senior: $5
Students: $4
Family: $14
*Free for children (6 and -) and for the members of the museum