Bin sizes and features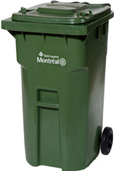 Three sizes are available
120 L bin
Height: 97.8 cm
Width: 58.5 cm
Depth: 55.8 cm
Wheels diameter: 20.3 cm
240 L bin
Height: 106.3 cm
Width: 63.5 cm
Depth: 68.6 cm
Wheels diameter: 20.3 cm
360 L bin
Height: 118.1 cm
Width: 71.1 cm
Depth: 77.4 cm
Wheels diameter: 30.4 cm
Appearance and capacity
• Colour of the bin and lid: dark green
• One-piece bin, so no leakage.
• Made from high-density polyethylene (HDPE).
• Lengthy lifespan.
• Solid and durable, the bin is resistant to inclement weather and rougher handling.
Security and ergonomics
• Increased stability: 30 cm rubber wheels, silent movement with a wide wheel base, offers excellent stability on rough or slippery surfaces.
• The central section of the wheels is reinforced to optimize durability.
• Easy to handle: two ergonomic handles secured by four built-in joints to ensure easier mobility.
• Two small handles are used to lift the lid without having to touch the inside edge of the bin.The heavy lid makes it easy to close.
• Easy to close due to the heavy lid.
Hygiene
• Reduced odours.
• Slightly rounded cover and moulded edge to prevent water from leaking in.
• Removable lid that is attached to the bin prevents mess caused by small animals.
Ratio of bins to dwellings, based on type of dwelling
In compliance with current bylaws, waste bins are distributed to buildings with eight units or fewer, according to the following ratio:
• Single family homes: minimum of one bin with a minimum volume of 120 litres and a maximum volume of 360 litres
• Duplex: of one bin with minimum with a minimum volume of 240 litres and a maximum of 2 bins with a maximum volume of 720 litres
• Triplex or quadruplex: minimum of 2 bins for a minimum volume of 480 litres and a maximum of 3 bins for a maximum volume of 1080 litres
• Quadruplex with one garage per unit: minimum of 2 bins for a minimum volume of 480 litres and a maximum of 4 bins for a maximum volume of 1440 litres
• Buildings with five or six units: minimum of 2 bins for a minimum volume of 480 litres and a maximum of 3 bins for a maximum volume of 1080 litres
• Buildings with seven or eight units: minimum of 3 bins for a minimum volume of 720 litres and a maximum of 4 bins for a maximum volume of 1440 litres
• Industries, businesses and institutions (ICI): minimum of one bin for a minimum volume of 360 litres and a maximum of 2 bins for a maximum volume of 720 litres

In case of a broken bin or bin defect, call 311