How to use the bin
How to place your bin on collection day?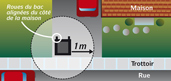 The bin must be placed outside after 8 p.m. the eve of the collection day or before 7 a.m. on collection day.
The bin must be put away within the 12 hours following collection.
The bin must be placed on the property (on the driveway) as close to the sidewalk as possible.
It is forbidden to place bins on sidewalks, roads or bicycle paths.
The wheels must be pointing towards the house.
Do not put anything on top of or around the bin.
Waste must be contained in the bin so that the cover is completely closed.
When more than one bin is put out for collection, a minimum space of 30 cm must be maintained between the bins.
At all times, you must leave a minimum of one metre of free space around the bins.
Avoid putting the bin in front of a place where a car might park.
Bin storage
Owners and occupants must store their waste bins in the building side yard or back yard, or in the garage. If there is no side yard, back yard or garage, the bins can be stored in the front yard near the building.
In the event of a snowstorm?
During heavy snowfalls, if your bin only contains a few bags, it is preferable that you wait until the next collection day. If you absolutely need to empty it, place it in your cleared garage entrance in order for it to be accessible to the truck.

Once the bin has been emptied, it must be returned to the property so it does not impede snow-removal operations. Make sure your bin is never left in the street or on the sidewalk.
Materials banned from the garbage bin
Earth, used oil, rock, concrete, all hazardous household waste, all construction materials and electronic products: Must be taken to an Écocentre, such as : Saint-Laurent (3535, rue Sartelon), Acadie (1200, boul. Henri-Bourassa Ouest) or Côte Vertu (6925, chemin de la Côte-des-Neiges).
Tires: Must be taken to an ecocentre (see above) or a local garage.
Animal carcasses: Contact the SPCA at 514 735-2711 or call 311.
Paper, cardboard, metal, plastic: must be disposed of in the recycling (green) bin (see Recycling collection).
Food scraps, garden waste and branches: Food scraps (leftovers, kitchen scraps, etc.), green waste (garden waste and leaves) as well as branches must be disposed of in the brown bin for organic waste (see Organic waste collections). Excess green waste and branches may be placed in paper bags (not plastic) or reusable containers for pick-up.