Public transportation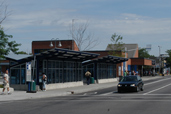 In addition to its advantageous geographic location, the Saint-Laurent community benefits from an excellent supply with respect to public transit services. Accordingly, residents have access to two Metro stations and three stations serving the Montréal/Deux-Montagnes commuter train line. This means that it is possible to reach downtown Montréal, the North Shore or the South Shore in a matter of just a few minutes.
Moreover, its streets and main arteries, including Côte-Vertu and Henri-Bourassa boulevards, are served by several bus lines that run continuously during rush hour.
Finally, the Communauto car sharing service and the BIXI self-serve bicycle service have made inroads and will continue to thrive in the coming years.
Saint-Laurent sets an example

In its Local Transportation Plan, Saint-Laurent places a great deal of emphasis on public and active transit, making these one of the three main axes in the Plan. Among the intervention strategies devised along these lines, the Borough intends to increase its public transit supply and foster the use of car sharing, and to focus on effective transit management.