Signage and parking
To facilitate the flow of traffic and street maintenance, the Borough has a parking policy that takes into account both the zoning and traffic volume of various districts. Parking restrictions vary from one district to another, and it is therefore important to check the signs before parking.
Parking violations are subject to fines, and the vehicle may be towed away. The owner of any vehicle towed to a nearby street must pay the towing charges.
Parking restrictions
At no time is parking authorized in alleys. In winter, signs prohibiting parking between 6 p.m. and 7 a.m., or between 7 a.m. and 6 p.m. may be temporarily installed a few hours before snow removal operations begin. Accordingly, citizens must be vigilant in order to ensure that their vehicle does not disrupt different road operations.

It is forbidden to park or store a trailer or boat outdoors, or to repair a vehicle outdoors.
Reserved street parking for residents
Since fall 2010, a program aimed at facilitating access to parking spaces on streets in districts located near heavy traffic areas (métro stations, academic institutions, commercial streets, etc.) through the issuance of stickers to residents is in effect in Saint-Laurent.

The program was introduced in response to the needs expressed by residents in the Vieux-Saint-Laurent Neighbourhood in order to ensure that they have access to vacant parking spaces near their homes. Furthermore, this project is in line with the Local Transportation Plan for the Borough of Saint-Laurent, which strives to maintain the quality of life for residents by ensuring that the use of public streets is shared equitably.

Benefits of the program
• On-street parking spaces are reserved during specific times for the exclusive use of residents holding
parking stickers
• Uniform signage throughout the district
• Better monitoring of the applicable bylaw
• To encourage sustainable transportation through the use of extended parking periods.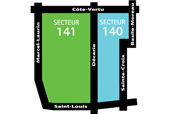 Two districts have been identified in the Vieux-Saint-Laurent neighbourhood: 140 and 141.
Sticker holders may use reserved parking spaces in their district only.
Signage panels
The districts are identified by signs installed along the roads.
Signs indicating the periods during which parking is permitted for non-sticker holders, as well as the street maintenance times have also been installed in both districts.
Terms
To obtain a sticker, the applicant must:
• Own the vehicle (passenger vehicle or motorcycle)
• Live on a street in the district.
The number of stickers is limited to two (2) per address.
How to obtain a sticker?
Stickers are available at the Citizens' Office
(777, boulevard Marcel-Laurin) from 8:30 a.m. to 4:30 p.m.
Annual cost?
First sticker: $60
Second sticker: $120
Documents required?
To obtain a sticker, the applicant must present the following documents: Proof of vehicle ownership and two proofs
of residence.
Proof of vehicle ownership:
• Vehicle registration in the applicant's name
OR
• Vehicle registration and lease contract in the applicant's name.
Proof of residence in the district in question:
Two of the following:
• Driver's licence;
• Invoice for a recognized academic institution issued in the name of the applicant and indicating his or her
address;
• Recent original invoice (dating back less than three months) for public services;
• Recent bank statement (dating back less than three months) from a financial institution.
Leases are not accepted as proof of residence.
Validity of the vehicle sticker
The sticker is valid from its date of issuance until September 30th of the following year. Stickers can be renewed by mail
starting in August.