Aréna Raymond-Bourque
IMPORTANT
IN SUMMER 2019, ARÉNA RAYMOND-BOURQUE WILL BE CLOSING ITS DOORS FOR APPROXIMATELY 18 MONTHS FOR MAJOR RENOVATIONS.
Contact info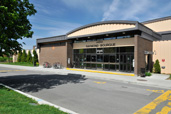 Aréna Raymond-Bourque
2345, boulevard Thimens
H4R 1T4
Phone: 514 956-2580
Schedule
Arena
Monday to Sunday, from 7 a.m. to 11 p.m.
Administrative offices
Monday to Friday, from 8:30 to 12 p.m. and from 1 to 4:30 p.m.
Services
Open skating
Open hockey
Special events
Sports events
Meeting place for various clubs and associations
Admission fees
For admission fees, click here.