Public works
Roadworks
For more information on the work projects under way in the Borough, consult
Info-Travaux
Frozen pipes
If you are facing a problem with frozen pipes, you must first determine whether the frozen pipes are indoor or outdoor ones:
Indoor pipes: If the water is running from one of the faucets (taps) in the building, that means the problem is affecting only the indoor pipes. In that case, you must contact your plumber or an appropriate specialist.
Outdoor pipes: If no water at all is running from the taps, there is good reason to believe that the problem lies with the outdoor pipes. In that case, contact the Borough by phoning 311 and report the problem. A Borough employee will come and take note of the facts. If he finds that the problem comes under the responsibility* of the Borough, the employee will then take the necessary steps to proceed with unthawing the public portion of the water supply service, at no charge to the owner.
*Please note: The responsibility for unthawing the pipes must first be established. The criteria for determining this responsibility are complex: the impact of renovations or construction work, the age of the building, compliance with municipal bylaws, the location where the pipe is frozen, etc. (Pipes running from the building to the water shut-off valve outside come under the responsibility of the resident.)
Street cleaning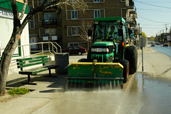 (March 15 to November 15)
To facilitate street cleaning, the following parking regulations apply:
West of 32e Avenue:
Alternate-side parking is in effect Tuesdays and Thursdays from 9 a.m. to 4 p.m., with the exception of boulevard Saint-Joseph, 45e Avenue (commercial section), and rue Provost and rue Victoria near 32e Avenue.
East of 32e Avenue:
Alternate-side parking is in effect on Mondays and Wednesdays from 9 a.m. to 4 p.m. On rue Provost and rue Notre-Dame, alternate-side parking is in effect Mondays and Wednesdays from 7 to 9 a.m.
However, all other traffic signage on the street must be obeyed (no stopping, no parking, parking of limited duration, reserved parking, etc.).
Drinking water
What to do if tap water is discoloured?
Before you call 311, make sure the following situations do not apply to you:
If water is red or brown, just let the cold water run until it is clear again. This was probably caused by the use of fire hydrants or valves in your area.
If water smells or tastes bad, you should contact the water filtration plant (514 637-3512) instead of public works.
If your basement is flooding, please contact the fire department by calling 911. They can help you get rid of the excess water.