Urban safety action committee
Information activities and programs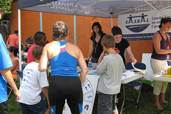 Information on urban safety is made available to citizens by means of booths where events are held, or during information meetings dealing with specific topics such as emergency measures or household security. For additional information on all CASUAL programs and activities:
Contact us
Workshops
5 to 7 p.m. meeting on household safety
The workshops take place in the park chalets and disseminate information on household security. The workshop is given jointly by CASUAL and Neighbourhood Police Station 8.
"Sûre d'elle: vivre en sécurité dans mon quartier" (living safely in my neighbourhood)
This 2-hour information meeting led by Le Parados and Neighbourhood Police Station 8 deals with security and prevention in the urban environment, at home and in romantic relationships, for women age 18 and over.
The CASUAL also offers workshops on specific application (home safety, child safety, fraud, Internet security).
Training
Training on preparation for emergencies
Preparing yourself for an emergency: know how to use the national guidebook, to prepare an emergency kit and to avoid potential hazards.
See the guide emergency preparedness 72 hours
Events
During the summer, find the kiosks CASUAL information at events in parks and streets of Lachine.
Campaigns

"En sécurité dans mon quartier" (Secure in my neighbourhood)
The logo, when displayed at the entrance of a business, indicates that the owner has received training to give you refuge and the support you need, should you run into difficulties.

"Je m'occupe de ma sécurité" (I look after my security)
With this campaign, volunteer seniors accompanied by authorized persons provide a home visit service for seniors who wish to be and feel more secure.
Contact us

CASUAL
800 rue Sherbrooke, suite 118
Lachine (Québec) H8S 1H2
Phone : 514 634-3471, poste 825
E-mail: c.a.s.u.a.l@hotmail.com