New construction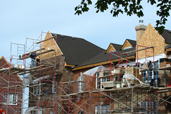 Persons who wish to carry out a construction project, conversion, expansion or addition to a building, accessory building or isolated garage must obtain a permit from the borough prior to beginning work.
The request must be made in writing using the appropriate form and be accompanied by the appropriate documents, which include plans and specifications, cost estimate and building location certificate.
A permit will be issued within 45 days of the date the duly completed request is received.
Cost of permit: $8.90 per $1,000 of evaluated cost of the work or fraction thereof. Minimum cost: $125.
A permit or certificate of authorization is also required to install or build a billboard, swimming pool, balcony, porch or restaurant terrace.
If you are not sure whether you need a permit for the work you plan to do, we suggest that you contact the permits and inspections office.