2016-2020 Local sustainable development plan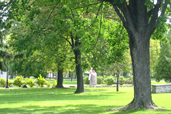 Adopted by Borough Council, the 2016-2020 Local sustainable development plan is a continuation of the first plan adopted in 2011. This plan has materialized through consultations between the various administrative units. Residents, organizations, institutions, business and industry are at the heart of this consultation process.


Four types of priority interventions guide the measures in this action plan:
Reduce greenhouse gas emissions (GHGs) and dependence on fossil fuels
Green, increase biodiversity and ensure the sustainability of resources
Ensure access to sustainable, healthy, human-scale neighbourhoods
Transition to a green, responsible economy

Read the Plan local de développement durable 2016-2020 in French [816,9 ko]
Policy on trees
Adopted by city council on June 20, 2005, the Tree Policy seeks to equip Montréal and its boroughs with a collective vision and effective management tools for interventions related to trees.
In order to allow each and every citizen to contribute to the preservation and development of our arboreal heritage, the Tree Policy proposes a series of activities including the creation of an inventory and an arboreal plan, as well as the establishment of maintenance programs for public trees.
In addition to regulating felling and coordinating interventions on public land, the Tree Policy also targets trees located on private property. The new regulations protect trees, and they involve necessary adaptations and modifications to the borough's previous laws of planning concerning felling.
If you want to cut down a tree on your property, you will need a tree felling permit
Location of parks and gardens
To find the locations of the borough's parks and gardens, view a map of Lachine [in French - PDF - 1.33 MB - 1 page]