Éco-quartier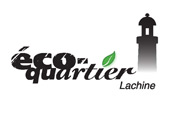 To manage the Éco-quartier Lachine program, the Borough has appointed the Groupe de recherche appliquée en macroécologie (GRAME), a local organization that works toward raising public awareness of sustainable development and environment protection by promoting various types of renewable energy, active transportation, energy efficiency and the use of economic incentives in environmental management.
The Éco-quartier's mission
The mission of theÉco-quartier Lachine program is to promote environmental (i.e., green) citizenship and improve Montrealers' living environment. In this regard, the Éco-quartiers have already substantially demonstrated their value, by taking part in the development of a significant number of environmental actions in their respective boroughs.
The objectives pursued by the Éco-quartier:
- To encourage the public to reduce the consumption of raw materials at the source and to valorize and reuse objects that are still functional
- To encourage the public to recycle by using various means of raising awareness: information sessions, the distribution of promotional material, needs assessments, the implementation of various recovery methods, etc.
- To increase the participation of residents and businesses in the various selective and seasonal collections
- To optimize the performance of the various green programs by gradually prompting changes in attitudes and behaviours among the Borough's residents

Some of the services offered:
- the distribution of recycling bins and rainwater barrels
- composting training
- environmental awareness in schools
Twice a year, you can buy a regular tree or a fruit tree at a reduced price, thanks to the Un arbre pour mon quartier, program of the Regroupement des éco-quartiers. You can buy your tree online or from GRAME.

Those in charge of the Éco-quartier program at GRAME can help you set up projects that will improve your living environment, such as a clean-up in your alley, for example. Go ahead, visit your Éco-quartier!
735, rue Notre-Dame
514 634-7205
ecolachine@grame.org