Compost
The Borough of Lachine sells 300-litre backyard composters, which you may purchase from the Bureau du citoyen. It should be noted that no delivery service is available.
2017 rates: $50 (plus tax)
No refunds or exchanges
Before going to the Bureau du citoyen, check the opening and closing times and whether there are any composters in stock.
TheÉco-quartier Lachine offers free training on composting every year at Regroupement de Lachine, 735 rue Notre-Dame.
Compost Giveaway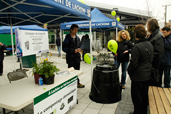 Green waste is processed into compost, which is then offered to residents free of charge.
In 2018, the compost giveaway will take place on Saturday, May 12, 7:30 a.m. – 3:30 p.m..
At the Centre technique, 2200 rue Saint-Antoine

Bring a container with a capacity of 100 litres maximum (the contents of a standard garbage can), which you will fill with compost. Only Borough residents may obtain this compost. Proof of residence is required.