Snow removal
Signposting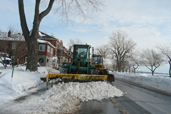 Snow removal operations are carried out day or night in all areas of the Borough. Check the signs posted for this purpose.
Yellow sign indicate that parking is prohibited between 7 p.m. and 7 a.m.
Orange sign indicate that parking is prohibited between 7 a.m. and 7 p.m.
Please note: In case of a snowfall requiring snow removal operations before November 15, disregard the alternate side parking restriction signs for street cleaning.
Signs that indicate no parking (yellow and orange signs) are usually set out the day before the snow removal operations. Loading of snow is carried out within 24 hours after these signs are set out. If snow removal on your street is not complete by the end of the no-parking period, it will be extended to the same period of the next day so that snow removal teams can continue their work.
NEW! Starting this winter, snow loading operations will be carried out overnight, 7 p.m. – 7 a.m., in some areas West of 32
e
Avenue. The other operations (spreading abrasives, clearing sidewalks and roads) can be carried out at other times of the day. Consult the
map
.
Useful advice
Pay attention to the road signs. Always respect the signs set out for snow clearing—they have priority over all others. Otherwise, it could cost you towing fees and a ticket. To find a vehicle that has been towed during snow loading operations, click on the following link: Info remorquage
Use your private driveway or a public parking lot. The Borough contains 25 municipal parking lots which are free from 9 p.m. to 7 a.m.
Park your vehicle parallel to the sidewalk and 30 cm away from it to make easier for the sidewalk snow plows to pass. Angle parking is prohibited because it hinders the passage of emergency and snow clearing vehicles.
Pushing snow from your property onto the street is prohibited and will result in a fine ($100 plus costs). By refraining from pushing more snow into the street, you are allowing drivers and pedestrians to circulate freely. However, if your property's layout does not allow you to store snow, you must clear your property prior to the passage of the snow thrower.
Use alternative means of transport such as public transit or carpooling.
Should there be a collection, place your bin, bags or trash can back from the sidewalk. Don't put it out unless you really need to.
Information on snow clearance operations:
• Download the Info-neige MTL app available on iOS or Android to follow the progress of snow loading operations
• Phone 311
Program designed to offer free snow removal services to vulnerable and reduced-mobility people age 80 over and living in the Duff-Court and Lachine-Est sectors.
Job offer
Criteria: age 16-35

Locations of activity
- Duff-Court and Lachine-Est sectors
Registration
- Telephone no: 514 898-0450
- email: brigadeneige@cjelachine.ca
- 735, rue Notre-Dame and/or 929, 14e Avenue
Service offer
Criteria:
- Residents of Duff-Court and Lachine-Est sectors
- Reduced mobility or age 80 or over (free ans limited places)

Information
- Telephone no.: 514 634-0450, ext. 215 or 514 538-6435
- email: brigadelachine@cjelachine.ca