All of Quebec is taking up the challenge
And you, Lachine resident?
You don't have to be an athlete to succeed in Défi Santé! April 1-30, make a commitment to take some simple actions for 1 month to achieve 3 goals that promote physical and mental health:
Goal 5: Eat at least 5 servings of fruits and vegetables per day.
Goal 30: Be active for at least 30 minutes a day. And for young people, at least 60!
Zen goal: Take a moment to relax every day.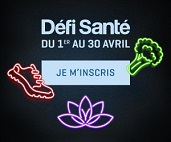 A collective and motivating challenge that does so much good! Practical tips, recipes, exclusive offers and prizes are all in store for you. With well-being and energy as a bonus!
Registration is free of charge and anyone registered for Défi Santé Month can change the personal information on their registration form at any time until April 30, 2019, by going online to DefiSante.ca, and logging into Mon Défi Santé.
Get active in Lachine!
On Sunday, March 31, 10 a.m. - 11 a.m., we invite you to join us at the 34e Avenue pier for a sports training session in partnership with Cardio plein air. You will also find, in the Publication section, a list of sports activities for the month of April.