Community Alleys Program
An invitation to rethink and re-appropriate these public spaces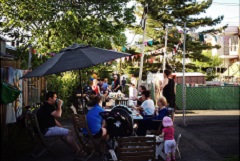 The Community Alley Program offers concrete assistance to residents who would like to develop a public alley to create an attractive common space for their neighbourhood.
The Borough of Lachine has some 84 alleys on its territory. Originally, they met useful needs that are now no longer in existence. Although a number of alleys are still used to access parking spaces, they are generally used very little. By rethinking them, residents re-appropriate these public areas to transform them, for example, into a playground, a green space or a meeting place for neighbours.
Examples of developed lanes:
with games for children
with street furniture
decorated with works of art
greening in various forms: urban agriculture in planters, climbing plants (depending on the feasibility and configuration of the alley), flower pots...
There are many advantages of a developed alley, for instance, it:
creates attractive public places
improves neighbourhood safety
helps reduce heat islands
strengthens social interactions
develops a sense of belonging to the neighbourhood
Program budget allocation:
up to $25,000 per lane
this amount includes $5,000 to compensate the supporting organization.
Eligibility criteria
If you would like to develop an alley, you must:
Make sure it is on public property (call 311 to check).
Set up an alley committee.
Partner with a non-profit organization (NPO) recognized by the Borough of Lachine.
Submit a duly completed application to the Borough within the required time limit.
The NPO's mission will be to support the committee of residents throughout the project and the NPO will manage the redevelopment budget granted by the Borough.
The alley committee will ensure that the alley is maintained over time, for example, by organizing clean-up operations or coordinating plant maintenance.
Application deadline: September 15, 2019
To find out whether your alley is located on public property (an essential condition for qualifying for the Program), call 311.