The mayor's message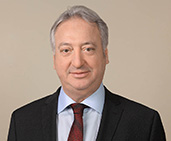 For Lachine residents, 2017 will be a year of festivities. Together, we will be celebrating our 350th anniversary!
As you know, Lachine is a unique place on the island of Montréal, with a great wealth of history: Our territory was not only a major fur trading post when the Europeans arrived here, it was also at the heart of Canada's industrialization in the 19th century. Today, Lachine is developing as an outstanding, dynamic living environment. With its wealth of cultural and built heritage, Lachine has become a destination of choice for entertainment and also as a home environment. And so we believe that it deserves to be celebrated in an outstanding way, with enthusiasm and generosity.
We have been hard at work for several months already, committees are in place and the preparations are progressing well. As they are created, we will be announcing the various components of these celebrations and, believe me, it will be quite a year of festivities!
So I am inviting you to regularly check out this page in order to keep informed about the upcoming events. In fact, here you will find lots of information on the development of current and future projects, the details of the various committees and their members, and more. You will also find here the historical capsules on Lachine, which we have been publishing in Le Messager Lachine & Dorval since March 2015, as well as those to come.
My colleagues on Council join me in thanking the members of the committees and all the volunteers involved in organizing the 350th anniversary festivities. I can assure you that all their devotion, heart and soul are being invested in all this.
Claude Dauphin
Mayor of Lachine