Dog Park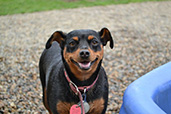 The dog park is located on Victoria Street near 28e Avenue. Access is restricted to members of the Famille canine de Lachine, the organization mandated by the Borough to ensure proper management of the dog park. Opening hours: 7 a.m. to 10 p.m. daily.
To access the dog park you must join the Famille canine, meeting the following requirements:
Possession of a valid dog license issued by the Borough of Lachine
proof that your dog has had its vaccinations
payment of annual membership dues ($25 for the first dog, $10 for the second and $10 deposit for the key).
Information: 514 634-3471 extension 517
Email: chiens.lachine.dogs@gmail.com
The park remains the property of the Borough of Lachine.
Parks where dogs are allowed on-leash
Promenade du Rail (between 10e and 15e Avenues, and between Victoria and William MacDonald Streets)
Between 15e and 18e Avenues
Between 18e and 25e Avenues
25e Avenue and Notre Dame Street
55e Avenue and Highway 20
Victoria Street and 40e Avenue
Victoria Street and 28e Avenue
Stoney Point Park on the waterfront between 45e and 56e Avenues from 6 to 10 a.m., and 6 to 10 p.m.