Dog Parks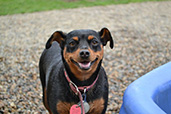 The Borough has two parks where dogs can walk or run around without a leash :
• Rue Victoria and 28e Avenue. To access the dog park you must join the Famille canine, which has been tasked by the city of Lachine with managing the park.
Annual membership dues : $25 for the first dog, $10 for the second and $10 deposit for the key. Applicants must prove that their dog has received its vaccines.
Schedule : 7 a.m. to 10 p.m. daily.
Questions : 514-634-3471, ext. 517 or chiens.lachine.dogs@gmail.com

• Parc Roger-Richer, at the corner of Saint-Jacques and Richmond (Saint-Pierre neighbourhood). Schedule : 7 a.m. to 10 p.m. daily. Free.
Access to dog parks is subject to compliance with the rules posted at the entrance to the park. At all times, dogs must wear a valid ID tag issued by the City.
Rules About Dogs in Parks
As a general rule, dogs are not allowed in Lachine Borough parks and playgrounds.
However there are exceptions for some parks. Check park signage.
Parks where dogs are allowed on a leash:

o The riverside area that runs along the footpath, from the 34e Avenue dock to the western boundary of Lachine
o Promenade du Rail between 6e Avenue and 29e, from 6 a.m. to 11 p.m.
o Parc de La 55e Avenue, corner of Highway 20, from 6 a.m. to 11 p.m.
o The park on Rue Victoria at the corner of 40e Avenue, from 6 a.m. to 11 p.m.

Sector where dogs are allowed only from October 15 to April 15
Dogs are allowed from October 15 to April 15 in the riverside area along the footpath between 6e and 34e Avenue. They are not allowed in the sector from April 16 to October 14.