Summer camps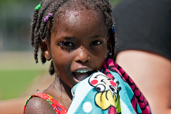 Summer camps are offered in co-operation with different partner organizations.
For further information, contact them or the Direction de la culture, des sports, des loisirs et du développement social at:
311
514-872-0311 (outside of Montréal).
Summer camps 2014
Côte-des-neiges
CDN Community and Recreation Centre Day Camp (French)
CDN Community and Recreation Centre
514 733-1478
www.cclcdn.qc.ca
Snowdon Neighbourhood Recreation Association Day Camp (Bilingual)
Macdonald park chalet
514 483-0100
www.macdonalddaycamp.com
Please note that the telephone line is out of service until registration time for the day camp.
Loisirs Soleil Summer Camp (French)
Saint-Pascal Baylon School
514 738-1924
Loisirs sportifs CDN Summer Camp (French)
CDN Sports Centre
514 342-9988
Mountain Sights Community Centre Summer Camp (French)
Pavillon de la Savane
514 872-0576
BCA CDN Summer Camp & Sports Camp (Bilingual)
Lavoie School/ Bill Durnan Arena
514 737-8321