Arenas and outdoor rinks
Refrigerated Bleu Blanc Bouge rink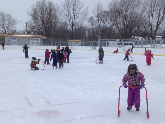 The Bleu Blanc Bouge rink initiated by the Montreal Canadiens Children's Foundation at parc de la Confédération offers optimal ice conditions thanks to its refrigeration system, which preserves the ice in the event of a thaw and thus prolongs the outdoor skating and hockey season.
The rink is open daily from 9 a.m. to 10 p.m. when the weather permits it. In keeping with its mission to promote physical activity among youth, the rink will give priority to student groups during school hours.
When there are no reservations, public skating and pick-up hockey are offered based on the schedule posted on site. The schedule is subject to change.
To reserve a time slot in order to hold supervised sports activities for youth, please contact the Direction de la culture, des sports, des loisirs et du développement social at 514 872-6364.
2016-2017 Schedule
Arenas
The borough's arenas and their partners offer a variety of activities for the whole family. For information on the ice sports offered at your arenas, see the 2015-2016 Directory of Sports and Recreation Activities.
For specific information on the following activities, we suggest you contact the association concerned:
NDG Minor Hockey Association
Telephone: 514 487-6799
[email protected]
ndghockey.ca

Montreal Figure Skating Club
Telephone: 514 483-0543
[email protected]
cpamfsc.org

Notre-Dame-de-Grâce Ringuette Association
Telephone: 514 481-1295
[email protected]
ndgringuette.org


There is no charge at any time for free skating and pick-up hockey for children 17 and under, as well as for adults from Monday to Friday. Adult rates for weekends are shown below. Skate rentals are available during free-skate hours. Please contact the Pro Shop for all skate rental needs.
Rates
Free skate: No charge
• Saturday and Sunday:
– Ages 17 and under: No charge
– Ages 18 to 54: $2.75
– Ages 55 and up: $2

Pick-up hockey
Ages 17 and under: No charge
Ages 18+:
– with an Accès Montréal card: $5
– without an Accès Montréal card: $7.50
Rink rentals – Rates for adult groups
Rates depend on the times and type of use, from $0/hour for federation introductory activities to $170 for other types of activities. To find out the rate for a specific activity and reserve the rink, please contact the arena of your choice directly.
Bill-Durnan Arena will be closed as of April, 10 for renovations. Reopening scheduled in September 2017 .
Regular hours at Doug Harvey Arena
During the hockey tournament and the Christmas holiday period (i.e., from December 24, 2016 to January 2, 2017, inclusively), there will be no free skating at Doug-Harvey Arena (see the schedule for the Bleu-Blanc-Bouge outdoor rink).
Free skating schedule
Monday to Friday, 4:30 p.m. to 5:30 p.m.
Pick-up hockey (for everyone)
Saturday: 8 p.m. to 10 p.m.
Pick-up hockey (Ages 18 +)
Friday: 1 p.m. to 3 p.m.
*Hours are subject to change during the season. The arenas are closed in summer.
Aréna Bill-Durnan
4988, rue Vézina
Phone: 514 872-6073
Aréna Doug-Harvey
4985, avenue West Hill
Phone: 514 872-6028
Outdoor skating rinks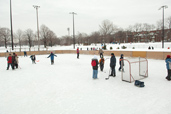 Weather permitting, outdoor rinks are open in winter from 3:30 to 10 p.m. on weekdays and from 1 to 10 p.m. on weekends.
Groups of 12 or more can book outdoor rinks for team sports, outside of free skating times. It is totally free. Just contact the culture, sports, recreation and social development department and ask for a permit.
Côte-des-Neiges
Notre-Dame-de-Grâce
de Kent
3333, avenue de Kent
William-Hurst
6230, rue de Terrebonne
de la Savane*
5111, rue Paré
Georges-Saint-Pierre
999, avenue Oxford
Van Horne*
4900, avenue Van Horne
Gilbert-Layton*
6975, avenue Chester
Jean-Brillant
5252, avenue Decelles
Loyola*
877, avenue Doherty
Macdonald
5355, avenue Clanranald
Notre-Dame-de-Grâce
3501, avenue Girouard
Mackenzie-King
4905, avenue Saint-Kevin
Trenholme
6800, rue Sherbrooke Ouest
Maurice-Cullen*
4770, chemin Circle
William-Bowie
4955, avenue Trenholme
* Park with only a boardless rink for free skating.
Hours and locations of outdoor rinks may be changed as necessary.