Notre-Dame-de-Grâce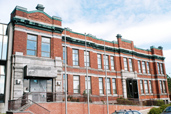 The Notre-Dame-de-Grâce maison de la culture opened in October 1984. It was the fifth maison de la culture in this municipal network of 14 professional cultural outlets currently operating in Montréal. In 2001, the NDG maison de la culture became a member of the Société des musées québécois after being awarded the status of museum institution recognized by the Ministère de la Culture, des Communications et de la Condition féminine du Québec. The only municipal cultural facility in the Notre-Dame-de-Grâce district, it has an 87-seat performance space and three exhibition halls. The current building, a former police station, was developed to house the maison de la culture and a library. It is adjacent to a fire station.
Notre-Dame-De-Grâce Maison de la culture
3755, rue Botrel
Montréal (Québec) H4A 3G8
Phone: 514 872-2157
Schedule
Tuesday and Wednesday: 1 to 7 p.m.
Thursday and Friday: 1 to 6 p.m.
Saturday and Sunday: 1 to 5 p.m. (Closed on Sundays during the summer)
Monday: Closed
Events
All activities at the maisons de la culture are free, but you have to have a pass to attend a show. You can pick up a pass at the Notre-Dame-de-Grâce Maison de la culture 14 days in advance. Quantities are limited. Some conditions apply: only two per person for evening shows; four per family for family activities.