Côte-des-Neiges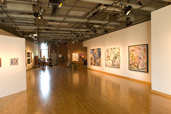 The Côte-des-Neiges maison de la culture opened in September 1983. The only municipal cultural facility in the Côte-des-Neiges district, it has a 135-seat performance space, three exhibition halls and a green roof with a terrace that opened in 2007. It shares a building with a library and is located near a métro station, close to main arteries.
Côte-des-Neiges Maison de la culture
5290, chemin de la Côte-des-Neiges
Montréal (Québec) H3T 1Y2
Phone : 514 872-6889
Schedule
Tuesday and Wednesday: 1 to 7 p.m.
Thursday and Friday: 1 to 6 p.m.
Saturday et Sunday: 13 h à 17 h (Closed on Sundays during the summer)
Monday: Closed
All activities at the maisons de la culture are free, but you have to have a pass to attend a show. You can pick up a pass at the Côte-des-Neiges Maison de la culture 14 days in advance. Quantities are limited. Some conditions apply: only two per person for evening shows; four per family for family activities.