Intercultural Library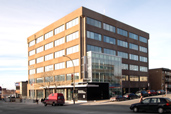 The Côte-des-Neiges—Notre-Dame-de-Grâce borough opened the Intercultural Library in 2005. Le 6767 community centre is located in the same building.
The Intercultural Library helps building bridges between different cultures, through language courses, world music and books in such languages as Arabic, Vietnamese, Hindi, Urdu, Tamil and Tagalog (Filipino). The Intercultural Library has a large number of books for adults and for young people. Users also have access to many periodicals, DVDs, videos, music CDs and CD-ROMs.
BIC FAB
The Benny Fab's resounding success in the two years since it opened led to the opening of a second Fab Lab at the Intercultural Library in November 2017.
This new space for digital and artistic creation offers workshops for people of all ages, but its primary goal is to stimulate youth to foster their creativity and get familiar with all things digital and more.
Open to the greater public two days a week, Wednesdays from 2 p.m. to 7 p.m. and Sundays from 10 a.m. to 4:30 p.m. the Bic Fab also reserves times for groups during the week.
TD Summer Reading Club 2018: Indulge your inner bookworm!
From June 30 to August 11, indulge your inner bookworm by discovering the library's suggested readings and taking part in its free theme-based activities. There's a litttle something for everyone!

To register, present your valid library card (it's free!) at the library to receive your materials. Go to 6767 Chemin de la Côte-des-Neiges.
For further information: https://www.facebook.com/events/381261425723341/
Address
6767, chemin de la Côte-des-Neiges
Montréal (Québec) H3S 2T6
Adults: 514 868-4715
Children: 514 868-4716
Schedule
Monday, Thursday and Friday:
10 a.m. to 6 p.m.
Tuesday and Wednesday:
12 p.m. to 7:30 p.m.
Saturday and Sunday:

10 a.m. to 5 p.m.