Intercultural Library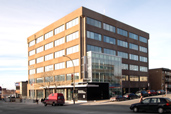 The Côte-des-Neiges—Notre-Dame-de-Grâce borough opened the Intercultural Library in 2005. Le 6767 community centre is located in the same building.
The Intercultural Library helps building bridges between different cultures, through language courses, world music and books in such languages as Arabic, Vietnamese, Hindi, Urdu, Tamil and Tagalog (Filipino). The Intercultural Library has a large number of books for adults and for young people. Users also have access to many periodicals, DVDs, videos, music CDs and CD-ROMs.
Address
6767, chemin de la Côte-des-Neiges
Montréal (Québec) H3S 2T6
Adults: 514 868-4715
Children: 514 868-4716
Schedule
Monday, Thursday and Friday:
10 a.m. to 6 p.m.
Tuesday and Wednesday:
12 p.m. to 7:30 p.m.
Saturday and Sunday:

10 a.m. to 5 p.m.