Côte-des-Neiges Library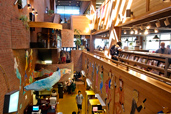 The first green roof on a city building was built, in 2007, on the roof of the Côte-des-Neiges Library and Maison de la culture.
The Côte-des-Neiges Library has an extensive selection of detective novels and thrillers, along with collections of detective novels by Scandinavian authors, fantasy and science fiction, comic strips and a practical and popular travel section. Russian, Chinese and Spanish-speaking readers will all find collections of novels and non-fiction just for them. There are also activities for young people, such as storytime, meetings with authors, exhibitions and shows.
Address
5290, chemin de la Côte-des-Neiges
Montréal (Québec) H3T 1Y2
Adults: 514 872-6603
Children: 514 872-5118
Reference: 514 872-2790
Schedule
Monday, Thursday and Friday:
10 a.m. to 6 p.m.
Tuesday and Wednesday:
12 p.m. to 7:30 p.m.
Saturday and Sunday:
10 a.m. to 5 p.m.