Health services
Hospitals and CLSCs
Hospitals with emergency departments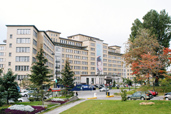 Hôpital Sainte-Justine (children's hospital)
3175, chemin de la Côte-Sainte-Catherine
Phone: 514 345-4931
Metro: Université de Montréal or
Metro: Côte-Sainte-Catherine, bus 129 East
St. Mary's Hospital
3830, avenue Lacombe
Phone: 514 345-3511
Metro: Côte-des-Neiges
Sir Mortimer B. Davis - Jewish General Hospital
3755, chemin de la Côte-Sainte-Catherine
Phone: 514 340-8222
Metro: Côte-des-Neiges, bus 165 North or
Metro: Côte-Sainte-Catherine, bus 129 East
Got a question? Pick up the phone!
The Info-Santé telephone service offered by the borough CLSCs is available 7 days a week, 24 hours a day. Skilled nurses are ready to take your call and will be happy to advise you or steer you toward the appropriate resources.
Côte-des-Neiges CLSC: 514-731-8531
Notre-Dame-de-Grâce-Montreal West CLSC: 514-485-1670
René-Cassin CLSC: 514-488-9163
Info-Santé, a single three-digit number: 811
If you use a TTY teletypewriter, call 514-858-6213.