Police
A helping hand close by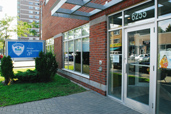 The borough of Côte-des-Neiges–Notre-Dame-de-Grâce has two neighbourhood police stations. Their job is not only to police the area and prevent crime, but also to make our neighbourhoods peaceful and safe places, make residents feel secure, promote local quality of life and improve traffic safety.
The officers based at these stations are very aware of our borough's unique needs and issues. They patrol the area around the clock every day, by car, on foot and by bicycle.
Our neighbourhood stations
Station
Adress
Telephone
11
Notre-Dame-de-Grâce
6255, avenue Somerled
Montréal (Québec) H3X 2B7
Fax: 514 280-0611
514 280-0111
26

Côte-des-Neiges
7405, avenue Mountain Sights
Montréal (Québec) H4P 2B1
Fax: 514 280-0626

514 280-0126
You can drop into these two stations every day from 9 a.m. to 7 p.m..
If you've witnessed a crime
If you have information about a crime, call INFO-CRIME at 514 393-1133