Balconies, porches and stairs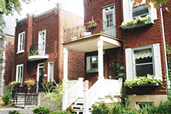 You do not need a permit if you want to repair balconies, porches and stoops, ramps and stairs leading to them and railings and roofs protecting them. "Repair" means replacing a rotten or corroded part with an identical part.
The replacement of balconies, porches and stoops in their entirety, as well as their associated components (e.g., guard rails, staircase bannisters and handrails), require the acquisition of a permit.
As part of your permit request, bring the following documents to the Permits and inspections division service desk:
The location certificate (2 copies)
A draft of the project, drawn to scale (2 copies)
Photographs of the components to be replaced
A cost estimate
The contractor's contact information, if applicable
Payment for the survey fees
A mandate from the owner is required if the permit is applied for by proxy
Fees for residential buildings
$9.80 per each $1000 in construction costs (minimum fee of $143)
Fees for every other type of building
$9.80 per each $1000 in construction costs (minimum fee of $430)