Ecocentres
Écocentres are open to all residents and property owners in the Montréal urban agglomeration.


Residents and property owners have access to seven écocentres in the Montréal urban agglomeration.
Access is free with a proof of residence and an ID. Écocentres are open five or seven days a week, depending on the season.
Écocentres help to reduce the volume of waste sent to landfills as well as greenhouse gas emissions.
Écocentres accept items that are a health hazard or harmful to the environment, construction waste, metal, electronic devices, clothing and reusable items.
For more information on écocentres, items that are accepted, addresses, schedules, size of vehicles and maximum weight, and applicable rates (if any), please call 514 872-0384 or visit:
ville.montreal.qc.ca/ecocentres
*The summer schedule of éconcentres has been temporarily modified. Écocentres are open from Tuesday to Saturday from 8 am to 6 pm. Closed Mondays.
Nearest écocentre:
Côte-des-Neiges Ecocentre
6925, chemin de la Côte-des-Neiges
(Between Bedford and Jean-Talon)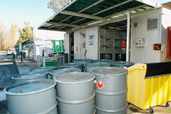 Small building contractors, click HERE (In French only) for conditions regarding the use of écocentres.