Garbage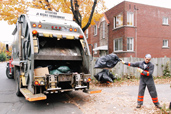 To help make sure that our borough doesn't look like a dump, you need to prepare your garbage properly for pick-up:
Place it in a bag with no holes, measuring at least 65 x 90 cm, with a capacity of at most 80 l, tied up securely and not weighing over 25 kg, or in a tightly closed regulation garbage can.
Always put out your garbage in the right place and according to the pick-up schedule: between 9 p.m. the previous evening and before 7 a.m. for the daytime pick-up, and between 8 a.m. and 4 p.m. for the evening pick-up;
Don't mix recyclables with household garbage.
N.B. To find out dates and times for this type of collection in your area, please consult
Info-collectes and enter your postal code.