Recycling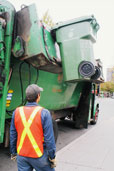 Unsorted recycling is authorized everywhere in the borough and you don't need to separate your recyclables before putting your bin out. However, in order to prevent mould and unpleasant odours, you must rinse all soiled containers (e.g. cans) before putting them in the bin.
Schedule
To find out dates and times for this type of collection in your area, please consult Info-collectes and enter your postal code.
Recyclable materials
Paper, cardboard, glass, metal and plastic can all be recycled.
Non-recyclable materials
Diapers, pizza boxes, food scraps, photos, toys, glass and porcelain, rubber and No.6 plastic cannot be recycled. Please sort your recyclables carefully and don't put these items in your recycling bin.