Road repair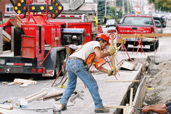 Numerous work operations will soon begin on the streets of the borough and continue until the fall of 2018. These will include road repairs, lateral sewer and water main rehabilitation, the complete reconstruction and repair of infrastructures, the water supply system, sewers, sidewalks and roads.
We're also resurfacing 11 laneways, performing minor repairs on sidewalks as well as repairs on public utilities, and building speed bumps and curb extensions; all these work operations will be spread out over the borough.
These work projects will improve the state of the borough's roads and renew its infrastructures.
The city plans to invest more than $120 million in 2018.
For updated information on work operations in the borough:
For more on the types of work operations
Consult the following files for details on the work operations planned:
For information on road repair undertaken by the city of Montréal, on certain collector streets and main arteries in Côte-des-Neiges—Notre-Dame-de-Grâce, click on the following link: Info-travaux.