Road repair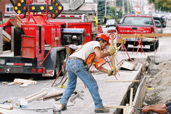 Work scheduled under the local network's Road Repair Program (PRR) is set to begin on the borough's streets and will continue until the fall of 2017. These short-term worksites will improve the state of the roads in the borough. In 2017, a total of 195 sections of streets and sidewalks will be targeted by the work operations, which will be executed using traditional repair techniques and asphalt covering.
For details on the work operations planned, see the list included with the notice sent to all residents of CDN-NDG, or see the map below.
For information on road repair undertaken by the city of Montréal, on certain collector streets and main arteries in Côte-des-Neiges—Notre-Dame-de-Grâce, click on the following link: Info-travaux.
Map of work operations