Food waste collection
Many residential buildings with eight or fewer units in the northestern sector of the Côte-des-Neiges neighbourhood i.e.: North of chemin Queen-Mary (included) and West of chemin de la Côte-des-Neiges (excluded) will be getting food waste collection by May 4, 2018. Your kitchen and table scraps will now be turned into compost and renewable energy. A number of boroughs are already participating, and now it's our turn to take this big step and do our part for the environment.
Food waste will be collected on Fridays instead of the regular garbage collection.
Garbage in the northestern sector of the Côte-des-Neiges neighbourhood will now be picked up once a week, on Tuesday for residential buildings with eight or fewer units.
Info-collectes
For details on all the collection schedules for your address, please consult the Info-collectes search engine.

What you will receive:
• Brown bin – 47 litres
• Countertop bin – 7 litres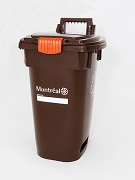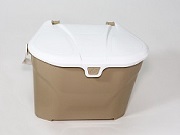 Reminders

REMEMBER!
• Your brown bin must be placed by the curb in front of your house on food waste collection day, before 7 a.m. if the collection is during the day, or before 4:30 p.m. in the collection is during the evening.
• Use only compostable bags in brown bins. Oxo-biodegradable bags are not accepted.
• Maximum accepted capacity: 25 kg or 55 lbs
• To avoid a fine, you must not put any garbage bags by the curb on food waste collection day.

Compostable materials
1. Meat, fish, eggs and seafood
2. Spoiled fruit and vegetables
3. Solid dairy products (cheese, butter) and milk
4. Bread, cereal, pasta and rice
5. Candies, cake and pastries
6. Table scraps and leftovers
7. Coffee grounds and filters and tea bags
8. Paper towels, tissues, napkins and tablecloths
9. Soiled paper food packaging and dishes
10. Paper and cardboard packaging (soiled or not)
11. Houseplants and soil

Non-compostable materials
1. Recyclable materials
2. Green waste
2. Corks
3. Wax
4. Cigarette butts
5. Ashes
6. Vacuum cleaner bags and their contents
7. Animal excrement
8. Diapers and hygiene products
9. Dust
10. Garden waste
11. Plastic
12. Styrofoam
13. Glass
14. Metal
15. Wood
16. Chewing gum
17. Dead animals
18. Paint
19. Engine oil
20. Hazardous household waste
21. Pet litter

Tips and tricks for successful food waste collection
1. To keep your countertop bin dry:
- Line the inside with newspaper.
2. To avoid smells:
- Keep meat or fish scraps in the freezer until collection day.
- Alternate layers of food waste and newspaper in your countertop bin.
- Wash out your countertop bin with dish soap and water or rinse it with vinegar and water.
3. To avoid fruit flies:
- Place a few corks in your fruit bowl.
- Wrap fruit scraps in newspaper before adding them to your countertop bin.
4. In winter:
- Place some newspaper or cardboard in the bottom of your large brown bin so that food waste won't freeze and get stuck to the bin. The newspaper or cardboard will also be composted.
Instructions
• Place the small bin in your kitchen.
• Line it with a compostable or paper bag. Oxo-biodegradable and plastic bags are not accepted.
• Place your food waste in the compostable bag.
• Close the compostable bag tightly before transferring it to the large brown bin.
• On food waste collection day, place the wheeled brown bin by the curb and make sure it is latched to keep small animals out.
• On garbage collection day, leave only garbage bags by the curb.
Countertop bin tips
• You don't necessarily have to use compostable bags, but they will absorb liquids and odours. If you don't want to buy bags, you can make a pouch out of newspaper.
• Wash out your bin regularly, by hand or in the dishwasher.
Brown bin tips
• Alternate layers of dry and wet materials in your brown bin.
• Don't leave your brown bin in the sun.
• Sprinkle the inside with a bit of lime or baking soda.
Compostable bags
The following types of bags are accepted:
• Paper bags
• Plastic bags labelled as being compostable
You can also make your own bags by folding up newspaper origami style!

PLEASE NOTE! Oxo-biodegradable plastic bags are not accepted, because they are not suitable for this type of collection. Please check the label for details.