Calls for projects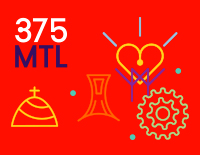 Building bridges for Montréal's 375th anniversary !
We dream of thousands of Montrealers in neigbourhoods across the city celebrating our historical and cultural wealth in 2017. We envision an explosion of creativity that will instill renewed pride and reflect the diversity that makes Montréal a world-class destination. We invite you to present innovative projects that build bridges. Combine your talents and let the creative sparks fly as you come up with neighbourhood celebrations that reflect Montréal's dynamic spirit and cultural effervescence. We want projects that are daring, surprising, a bit off-the-wall, inclusive and designed for Montréal's 375th.
Deadline: October 23, 2015.
For more information about the call for neighbourhood projects »