Heritage
Protecting our architectural heritage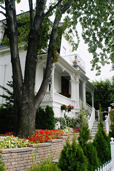 Much of our borough is subject to by-laws designed to protect and enhance our architectural heritage. Before starting any outdoor construction work, check with the Permits and inspections division to find out whether your building is in a designated sector. If so, try to plan your work accordingly, since it may take time to obtain the necessary permits.
Permits and inspections division of CDN-NDG
5160, boulevard Décarie, Suite 865
Montréal (Québec)  H3X 2H9
Monday, Tuesday, Thursday and Friday: open from 8:30 a.m. to noon and 1:30 p.m. to 4:30 p.m.
Wednesday: CLOSED in the morning; open from 1:30 p.m. to 4:30 p.m.
Information: 514 872-5160
Because of busy daytime peak hours and of variable file processing delays, it is recommended that you come to the service desk in the morning before 11:15 a.m. and in the afternoon before 3:30 p.m.