CONEX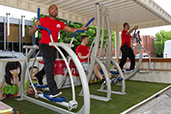 CONEX is a mobile workout unit that is installed in different locations in the borough of CDN–NDG in order to encourage people to adopt healthy and active lifestyles.
The platform is equipped with three exercise machines: ski exerciser, elliptical trainer and arms & legs combo exerciser. It is made available to citizens in order to incite them to carry out a physical activity, or for educational or promotional purposes.
Program
Parc Jean-Brillant
Parc Benny
Centre Walkley
Parc Mackenzie-King
Avenue de Monkland
Parc de la Confédération
Université Concordia – campus Loyola
Place du 6-décembre-1989
(corner Gatineau and Queen-Mary)
Parc Georges-Saint-Pierre
Parc de Kent
This new type of sports facility is conceived in the spirit of the Côte-des-Neiges—Notre-Dame-de-Grâce Déclaration pour un arrondissement en santé.