Livre-service
Share your good books!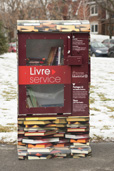 Inspired by similar projects in major cities around the world, the borough of CDN—NDG offfers Livre-service, a free resident-to-resident book exchange available at eleven locations.
The idea is simple: people leave a book they liked in a "book box" and take one out. They are free to decide whether to return the book taken. There is no charge, no registration and no obligation. There are currently twelve book boxes.
The success of Livre-service will be determined by citizen participation. Take part in this exchange!
There are currently eleven book boxes:
Accès Montréal office : 5160, boulevard Décarie
In front of Centre sportif NDG
In front of Centre sportif CDN
In front of l'Éco-Quartier NDG
Near Metro Plamondon
Placette Côte-des-Neiges
Near CHU Sainte-Justine
Parc de Kent (près des jeux d'enfants)
Parc Mcdonald
Saint-Raymond Community Center
Near coop La Maison Verte (at the intersection of rue Sherbrooke O. and avenue Melrose)
Please note : Livre-service is not a book drop for your neighbourhood library. Library materials must be returned to the public libraries.

Livre-service is a partner of Libérez les livres!
If you like, you can put a sticker in any books you leave in a Livre-service box, to indicate that you've "freed" them.