Logo and standard of uses
Coat of arms
1963 : The official coat of arms is accepted by the Municipal Council.
Blazon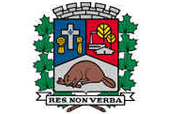 Meant, a priori, to reflect our roots, the French shield is the central element of the Saint-Léonard coat of arms. The field has three divisions, each with its own theme.
- The sinister represents the town's past.
- The cross, surmounted by a fleur-de-lis, is a reminder that Saint‑Léonard was originally a French-Canadian confessional community.
The dexter marks the town's determination to achieve harmony and balance between ecology and the social and economic environment.
The point symbolizes our past activities and our support for the future.
The mural crown represents the autonomy of Saint-Léonard. – The symbolism of this coat of arms can be summed up by the motto "RES NON VERBA," which translates as "Actions, not words."
Charges
French shield : our origins
Three divisions
Maple leaves : belonging to Canada
Sinister (left)
Cross : confessional community
Fleur-de-lis : French origins
Wheat sheaf and celery : rural origins
Dexter (right)
Tree : urban planning and ecology
House : social environment
Factory : economic environment
Mural crown : autonomy
Point
Beaver : past, present and future activities.
Logo
1988 : Saint-Léonard has an official logo.
The entanglement of these elements fused together in a single image suggests multiculturalism, a multiplicity of services and green spaces interspersed between the four cardinal directions. The layout of the graphic symbol represents movement, dynamism and strength. This logo was granted by a Municipal Council resolution on August 23, 1988.
S for Saint

L for Léonard

V for Ville

Ville de Saint-Léonard

2002 : On January 1, 2002, the Ville de Saint-Léonard merged with the Ville de Montréal, losing its municipality status to become a borough.  As a result, Saint-Léonard's corporate identity needed a makeover.  Around the same time, the Ville de Montréal updated its own logo, which dated back to 1981.
2003 : Saint-Léonard paired its logo with Montréal's new logo to create a whole new corporate identity. Since June 2003, all publications, ads, or documents issued by the Saint-Léonard borough carry this new logo.