Volunteering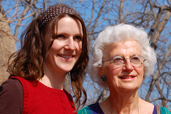 Want to help improve the residents of Saint-Léonard's quality of life?
Have some free time? Skills you'd like to share? Contagious enthusiasm?
Most community organizations are constantly in need of volunteers.
Whether you can spare three hours or a full day—on a regular basis or just every now and again—to do some office work, help out at events, enter data, provide support, etc., please contact one of our organizations—you could help improve someone's life and make the world a better place.
Want to help families, kids, seniors, people with disabilities, the environment, or a local cause? There's an organization that could use your experience.
Check out the list of local organizations.