Logo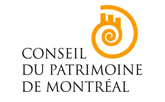 The spiral motif, which is evocative of an ear or a conch shell, expresses the idea of contininuity, origin, listening and communications, all of which are reflective of the role that the Conseil du patrimoine wants to assume for citizens.
The heritage council advises city council, the executive committee, the borough councils and municipal departments. It is continually available for and attentive to citizens.
The spiral also resembles a scroll, which is used as an architectural motif and at the end of the necks of instruments in the violin family. It symbolizes all types of material and immaterial cultural heritage. The three vertical lines represent the three mountains and the agglomeration - the city's modern organizational structure - as well as the three legs of the letter "M" in "Montréal."
The ochre colour represents the earth, our home, our relationship with our origins and history.