A baseball stadium and a street to honour Gary Carter!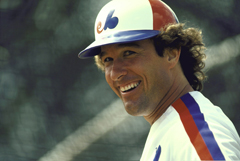 Mayor Gérald Tremblay, in collaboration with journalist and sports commenter Rodger Brulotte, is proud to announce that the baseball stadium in Ahuntsic Park will be renamed Gary Carter Stadium and Rue Faillon west of Boulevard St-Laurent will be renamed in honour of the famous baseball player.
This announcement follows the call for proposals launched last winter to honour the Expos' former star player, Gary Carter, who passed away on February 16, 2012. The selection committee, headed by Mr. Brulotte, reviewed no less than 2,000 suggestions. Thank you to all participants for your proposals!
Read the press release (in French)
Gary Carter, baseball star
A true sports hero, Gary Carter won the hearts of Montrealers through his feats on the field as well as his immense respect for his fans. Nicknamed "the Kid", he is considered to be one of the all-time great catchers in the major leagues. Both charismatic and passionate, he delighted crowds at the Olympic Stadium from 1974 to 1984, returning in 1992 for his farewell season. The first Expos player to be enshrined in the Baseball Hall of Fame, Gary Carter leaves Montrealers with many fond memories of an accessible, admired, spirited and talented athlete.