Municipal organization
Montréal comprises 19 boroughs and provides services to the entire island of Montréal, including its 15 reconstituted cities.
City's organizational chart
The city's organizational structure is complex. It includes political bodies, associate organizations, municipal departments and the boroughs.
Territory
Click on the map below to enlarge and print.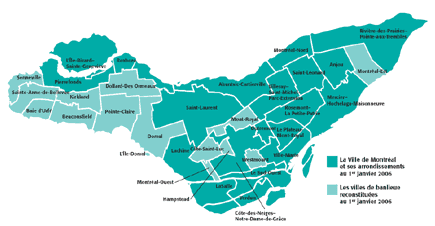 Division of services across the island of Montréal
Island of Montréal shared services
The Montréal agglomeration council oversees shared services on the island of Montréal.
The costs of these services are shared by all island of Montréal taxpayers. Shared services include:
Property assessment
Public transit
Streets and roads that make up the agglomeration's road system
All locations or facilities used as snow deposit sites for snow removed from several municipalities
Water treatment and purification
Removal and development of residual materials, as well as developing and adopting a residual materials management plan
Municipal watercourses
The following public safety services:

The police, emergency preparedness and fire departments
9-1-1 emergency centre
Developing and adopting an emergency preparedness plan and a fire safety risk coverage plan

The municipal court
Social housing and aid specifically for homeless people
The following areas of economic development:

Promoting a municipality, including tourist promotion, when promotion is done outside the municipality.
Welcoming tourists to the agglomeration
All local development centres
All convention centres, ports and airports
All industrial ports and railway branch lines
All aid specifically for businesses
Services offered by the boroughs
Montréal's 19 boroughs have the same jurisdiction and powers they had under the old administrative structure. Each borough's powers are exercised by its borough councils.
Public services such as garbage collection (household waste and recycling), snow removal and street cleaning, sports and recreational services, park maintenance and issuing permits continue to be offered to the public in each of the 19 boroughs.
Services offered by reconstituted cities
Reconstituted cities also offer local services within their city limits.
The city council of each reconstituted city is in charge of offering these services to its residents
Taxpayers in reconstituted cities receive a separate tax bill for their part of shared agglomeration services.