City hall
Tour of city hall and exhibitions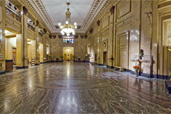 You can visit the hall of honour at city hall at any time, Monday to Friday, 8 a.m. to 5 p.m (except for holidays). Different exhibitions are regularly on display.

Virtual tour
Residents and tourists alike can now visit Montréal's city hall virtually using via Google Street View.
Watch a vidéo about the tour and how the photographer from Virtuo 360 created the tour (in French).
Guided tours
From September to June, guided tours of city hall can be organized free of charge for group of eight (8) persons or more. Just make an appointment by calling 311 or completing the form below.
Address:
City Hall
275 Rue Notre-Dame Est
Montréal, QC H2Y 1C6
Metro station: Champ-de-Mars
Paid parking: Chaussegros-de-Léry building, 303 Rue Notre-Dame Est
Wheelchair ramp: Place Vauquelin