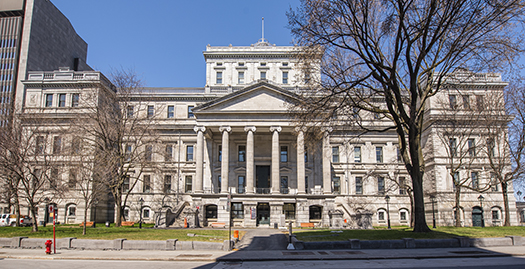 Exterior view of the Lucien-Saulnier building
City hall has been closed to the public since May 2019: the building will undergo a heritage restoration and major work aimed at bringing it up to standard, modernizing it and ensuring that it is better adapted to democratic life.
All public and democratic services at city hall were relocated to the Lucien-Saulnier building in the heart of Old Montréal, at 155 Rue Notre-Dame Est (Champ-de-Mars metro station).
This heritage building is open to the public.
Each month, residents can to attend city council meetings, agglomeration council meetings and public consultations held by the council's standing committees.
Guided tours are offered free of charge during the summer, from Monday to Friday.
The city clerk's office is located on the ground floor. The other floors house the offices of the council chair, the mayor and the executive committee members, and the city manager.