City hall
Tour of city hall and exhibitions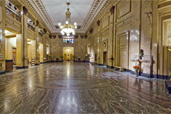 You can visit the hall of honour at city hall at any time, Monday to Friday, 8 a.m. to 5 p.m (except for holidays). Different exhibitions are regularly on display.
Discover Montreal city hall the citizens' house
From June 27th to August 26th, free guided tours are offered in English and without reservation.
In English :
From Monday to Friday: 11:30 am, 1:00 pm, 3:00 pm.
In French : 11 :00, 14 :00 et 15 :30
Departure from the Hall of Honour.
Visit of the Council Chamber, the terrace, and the Mayor's Gallery.
Entrance: 275, Notre-Dame Street East
Wheelchair ramp: Gosford Street
Duration: 30 minutes
Free guided tours can be organized for groups of eight persons or more. To make
an appointment, please call 514 872-0077 or write to [email protected]
Address:
City Hall
275 Rue Notre-Dame Est
Montréal, QC H2Y 1C6
Metro station: Champ-de-Mars
Paid parking: Chaussegros-de-Léry building, 303 Rue Notre-Dame Est
Wheelchair ramp:  Place Vauquelin
Construction
From August 10, 2016, through December 2016, the city will be carrying out repairs to the city hall building. During this time, city hall can only be accessed via Rue Gosford.