City hall
Tour of city hall and exhibitions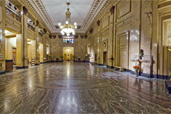 You can visit the hall of honour at city hall at any time, Monday to Friday, 8 a.m. to 5 p.m (except for holidays). Different exhibitions are regularly on display.

Address:
City Hall
275 Rue Notre-Dame Est
Montréal, QC H2Y 1C6
Metro station: Champ-de-Mars
Paid parking: Chaussegros-de-Léry building, 303 Rue Notre-Dame Est
Wheelchair ramp: Place Vauquelin
Celebration of weddings and civil unions
Celebrations of weddings and civil unions are not held at city hall.
Reservations
For more information or to make reservations, call 311 or complete the form below: