City hall
Guided tour
Come in and see the hall of honour, or even better: take a free guided tour!
Available thematic guided tours:
Historic guided tour in French and English
Francization (langage classes)
Apprentis citoyens, Citizens of Tomorrow and Jeunes citoyens engagés (school program offered by the Centre d'histoire de Montréal)
NEW - Introduction to democratic life (for children between the ages of 12 and 17, as well as one specific activity for adults)
Schedule – September to July
Fridays – without reservation*
1 p.m. - in French
2 p.m. - in English
Start: hall of honour
Duration: 45 minutes
*Group of at least 8 persons – Free guided tour, by reservation, Monday to Friday, 9 a.m. to 4 p.m.
Reserve a tour by filling out the form.
Information: 514 872-0077
presidenceduconseil@ville.montreal.qc.ca
Summer 2018
During the summer tourist season, guided tours are offered on a fixed schedule, without prior reservation. Tours are available in French and in English from Monday to Friday.
Schedule – June 27 to August 17, 2018
From June 27 to August 17, 2018, free guided tours of city hall are offered without prior reservation from 11 a.m. to 3:30 p.m. in French and English. Tours start in the hall of honour.
From Monday to Friday, guided tours start at 11 a.m., 2 p.m., 3:30 p.m. and 4:30 p.m. in French, and at 11:30 a.m., 1:30 p.m., 3 p.m and 4 p.m. in English.
Schedule – August 20 to August 31, 2018
From Monday to Friday, guided tours start at 11 a.m. and 3 p.m. in French, and at 1 p.m. and 4 p.m. in English.
Circuit: Tour of the council chamber, the terrace and the mayors gallery. Estimated duration: 40 minutes.
Montreal city hall is located at 275 Notre-Dame East Street. An access ramp for persons with reduced mobility is available at 510 Gosford Street and on Vauquelin Square.
Please note that the access to the hall of honour and the council chamber may be occasionally restricted due to ceremonial or press events, without notice. Schedule may vary according to ongoing events. We strongly recommend that groups of 8 persons or more make a reservation.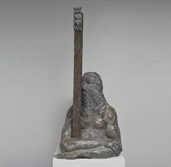 Works of art
More than 150 works of art consisting in a variety of paintings, photographs, tapestries, scultpures, prints and drawings, are part of the Municipal Art Collection, which can be admired at city hall. Several of these works are made visible to the public, such as Valérie Blass's sculpture, Mon bâton préféré tenu par l'homme ciment.