Community gardens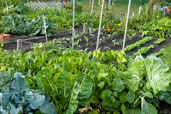 Montréal's community gardens program began in 1975. There are 97 community gardens. The boroughs have managed the program since the municipal reorganization in 2002.
Eighteen boroughs offer plots of land to their citizens for gardening. In some boroughs, a gardening instructor visits the garden regularly to give advice to gardeners. Some boroughs offer adapted gardens for persons with reduced mobility.
Materials provided include soil, a water source, tool shed or toolbox, tables, fences, sand, paint and flowers.
Each community garden elects a volunteer committee to oversee administrative matters.
For more information:
List of community gardens (in French)