2019 Spring Flood
Home return of residents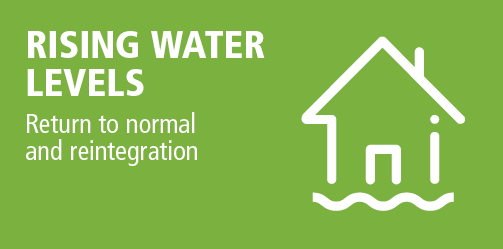 There are conditions for residents to be allowed to return home:
Once the fire department or borough/municipality has authorized it, follow the directions on the coloured card that was affixed to your home.
Read this information sheet for details about the coloured cards (in French and English). http://www1.ville.montreal.qc.ca/banque311/webfm_send/3562
Information sessions and temporary flood victim assistance offices
The Ministère de la Sécurité Publique (MSP) will hold information meetings for flood victims at 7 p.m. June 12. You will receive detailed information about the financial assistance and compensation program that is available to you.
L'Île‐Bizard‐Sainte‐Geneviève: Centre socioculturel, 490 Montée de l'Église
Pierrefonds‐Roxboro: Centre culturel de Pierrefonds, 13850 Boulevard Gouin O.
Victims in other boroughs and municipalities are invited to attend the meeting in Pierrefonds‐Roxboro.
Appointment with the Direction du rétablissement
After the presentation, you can make an appointment to prepare your compensation file and have it checked. Appointments will take place on June 13 and 14 at 500 Montée de L'Église, If you are unable to participate in the information meetings, you can go directly to the temporary offices on June 13 and 14.
Actions you should take after a flood:
Read the SIM's guide titled What to do after a flood.
Have your heating system checked by a qualified technician before turning it back on.
Propane/natural gas: Contact your distributor to re-open the supply line.
Electricity: Have your electrical equipment and heating appliances checked by specialists. Consult a master electrician before restoring power or having it restored, especially if the distribution panel was flooded.
Building structure: Have the structure of the building checked.
Check your smoke detector and/or carbon monoxide detector by pressing the test button for a few seconds until you hear the unit beep.
Do not store items that could obstruct balconies and emergency exits.
Keep a one-metre space clear around heating appliances.
Cleaning
Clean rooms that were contaminated by flooding in order to prevent mould. Wear rubber gloves, protective glasses and an N95-type mask. N95 masks are sold in pharmacies and hardware stores. For more details, visit the Urgence Québec Web site.
Throw away any food that has touched contaminated water.
Any medication that has touched floodwaters should be returned to the pharmacy, where a pharmacist can dispose of it safely.
Find out whether there is mould: When you return home, if mould is visible or suspected (greenish or blackish stains, a mouldy smell) or contamination by chemical products such as heating oil, contact a decontamination specialist.
Financial assistance for victims
Visit the Sécurité publique du Québec Web site. You'll find all the information you need about the "General Indemnity and Financial Assistance Program - Regarding Actual or Imminent Disasters" for both owners of primary residences and tenants. You can also visit the Red Cross Financial Assistance page.
Psychological support
Waste, sandbags and debris
Used and contaminated bulk sandbags
Put sandbags on the curbside, being careful not to disrupt traffic, so that the borough or municipality can pick them up.
For health reasons, do not keep water-stained sandbags. Bulk sandbags that were used or contaminated by rising floodwaters will be removed from the bag and recycled as bulk sand for the municipality's needs.
Polythene
The polythene used to build dikes is low-density polyethylene (LDPE), a recyclable material. To be recycled, the material must be separated from other materials and accumulated in uncontaminated bulk.
Hazardous household waste (HHW) and electronics
You can take HHW and electronics to ecocentres or keep them for the next planned travelling collection. Please note that the LaSalle and Saint-Laurent ecocentres are closed for an undetermined duration and that other ecocentres are closed on Sundays and Mondays. Details at: ville.montreal.qc.ca/ecocentres.
Visit the pages of boroughs and neighbouring municipalities affected by flooding` :