Welcoming Syrian refugees to Montréal and helping them integrate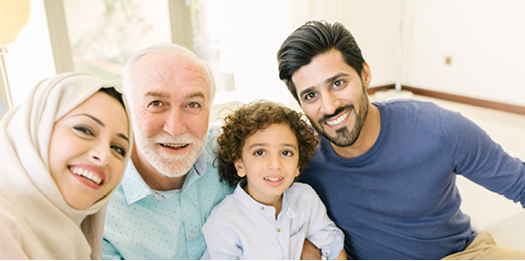 The city's role
While the first refugees entered Canada as part of the government of Canada's plan to take in 25,000 Syrian refugees, Montréal, in collaboration with a number of socio-community groups, plays a crucial role in welcoming these new households that will integrate Montréal's neighbourhoods until the end of 2016.
The conflict in Syria
Syria has been in a civil war since 2011. More than 250,000 Syrians have lost their lives since the beginning of the conflict between Bashar Al-Assad and those opposed to his rule, as well as jihadist rebels from the armed Islamic State group. Some four million Syrians have fled the country to date and now seek a new home to rebuild their lives away from the violence.
$ 1 million support budget
Montréal has allocated $1 million to help integrate Syrian refugees. These funds will be used to help families find housing and for the operational costs of the refugee hotline, the production of informational material, funding cultural and socio-community activities and providing financial aid to integration and assistance organizations.
Letter from Mayor Denis Coderre to Syrian refugees
December 12, 2015
Dear New Montrealers:
I would like to join with Montrealers in wishing you a warm welcome to Montréal, your new home.
Read more...

Coordination structure implemented
To ensure that refugees are welcomed and integrated successfully, the Montréal Syrian Refugee Coordination Committee and four operational committees have been created. These committees are tasked with governmental coordination, housing, education and integration issues, support for social and community groups, safety and transportation
Integration and Socio-community Groups Committee
This committee will coordinate the integration of Syrian refugees in Montréal by supporting neighbourhood social and community groups.
Housing and Education Committee
This committee will develop the critical path of finding temporary and permanent housing for refugees. It is also tasked with identifying and mobilizing housing and lodging resource types to offer residents temporary and permanent shelter.
Public Safety and Transportation Committee
This committee's mission consists of facilitating government partners' efforts to welcome refugees into local bodies under the best possible conditions.
Governments Committee
The role of the Governments Committee is to coordinate the actions of all three levels of government in their fields of expertise in order to maximize the efforts made to welcome and integrate refugees.
Canada's position on welcoming and settling Syrian refugees
With respect to its humanitarian tradition, Canada aims to take in more refugees in order to protect these vulnerable people.
On November 9, 2015, the Minister of Immigration, Refugees and Citizenship created a new ad hoc committee to help bring Syrian refugees to Canada. On November 24, 2015, following discussions with partners and provincial counterparts, it launched the "Welcome Refugees" action plan. The objective to take in 25,000 refugees by the end of 2015 was reviewed. The government was to identify these 25,000 refugees by December 31, 2015. A first wave of 10,000 refugees was expected in Canada before the end of 2015 and 15,000 additional refugees will arrive by February 2015. On January 18, 2016, the government of Canada's Web site reported than 10,790 refugees had already arrived. The operation has a budget of $678 million spread over six years, most of which will be used during the first three years.
The two types of refugees and services offered:
Privately Sponsored Refugees (PSRs): When PSRs arrive, they will be directed to their "host families," who will sponsor them for 12 months or until they are self-sufficient, whichever comes first. Sponsors will offer them care, housing, assistance with getting settled and social support.
Government-Assisted Refugees (GARs): Refugees will receive assistance from the government of Canada, except in Québec, where the province will be responsible for providing services. GARs will receive money directly for housing, furniture, clothing, etc. The exact amount of the allocation is not known at present, but will probably be commensurate to social assistance allocations set by the provinces. Upon arrival, refugees will also have temporary housing.
The following services will also be offered: complete health care (basic care offered to all Canadians under provincial social insurance systems, dental and eye care, medication), information about life in Canada, counselling, linguistic and scholastic training, etc.
GOVERNMENT OF CANADA
The federal plan, launched on November 24, 2015, has five phases, the first three of which are under the responsibility of the government of Canada:
1- Identifying Syrian refugees to come to Canada: Canada will work with the United Nations Refugee Agency (UNHCR) to identify people in Jordan and Lebanon, where they have an extensive list of registered refugees. These lists were created by order of priority according to the level of vulnerability.
2- Processing visas: Interested refugees will be scheduled for processing in dedicated visa offices in Amman and Beirut
3- Transportation to Canada: Beginning in December, transportation via privately chartered aircraft, with military aircraft assisting if needed, will be organized to help bring refugees.
4- Welcoming into Canada: Upon arrival in Canada, all refugees will be welcomed and processed by Border Services Officers (BSOs) for admission into Canada. This will include final verification of identity. This phase falls primarily under the responsibility of the federal government; the provincial government plays an essential complementary role.
5- Settlement and community integration: Syrian refugees will be transported to communities across Canada, where they will begin to build a new life for themselves and their family. They will be provided with immediate, essential services and long-term settlement support to ensure their successful settlement and integration into Canadian society.
GOVERNMENT OF QUÉBEC
Québec's "Coordination Plan for Welcoming Syrian Refugees," presented on November 25, 2015, is consistent with and complementary to the federal government's objectives. Québec will participate in the fourth and fifth phases.
The fourth phase (see Government of Canada's Plan above) falls primarily under the responsibility of the federal government; Québec plays an essential complementary role.
The efforts that the government of Québec is making to ensure this phase of the operation runs smoothly are being coordinated by the Organisation de la sécurité civile du Québec (OSCQ) in close collaboration with the Ministère de la Sécurité Publique, the Ministère de l'Immigration, de la Diversité et de l'Inclusion and other government departments, including the Ministère de la Santé et des Services Sociaux, the Ministère du Travail, de l'Emploi et de la Solidarité Sociale, the Ministère de l'Éducation, de l'Enseignement Supérieur et de la Recherche and the Ministère de la Famille. The Canadian Armed Forces and the Canadian Red Cross are crucial partners for this operation.
The fifth phase of integrating refugees into their host community is the responsibility of the government of Québec, in collaboration with 13 partner cities according to their intake capacity with respect to available housing and resources as well as the school boards and community organizations who play a pivotal role in the integration process.
In September 2015, the government of Québec announced its intention to welcome 3,650 Syrian refugees in 2015, with the same objective in 2016. A budget of $29 million has been earmarked for welcoming and integrating 3,650 refugees in 2015. Discussions with the government about the costs of this operation are underway.
On January 12, 2016, according to the Ministère de l'Immigration, de la Diversité et de l'Inclusion's Web site, Québec has welcomed 2,800 Syrian refugees through its sponsorship program and the generosity of its residents.
Cities in Québec hosting refugees
Thirty-six (36) host communities have been determined across Canada, inclduing 13 Québec municipalities: Montréal, Laval, Longueuil, Québec, Gatineau, Sherbrooke, Drummondville, Granby, Saint-Hyacinthe, Trois-Rivières, Victoriaville, Joliette and Saint-Jérôme.
A FEW STATISTICS ABOUT THE SYRIAN POPULATION
According to the 2011 National Household Survey, 17,990 people in Québec reported being of Syrian origin. The majority (91.8%) of members of the Syrian community are in the greater Montréal area. The administrative region of Montréal is home to 61.1% of persons of Syrian origin, while Laval is home to 22.1% and Montérégie, 6.6%.
Among those who reside in the Montréal agglomeration, more than three-quarters (78.1%) live in Montréal. Two of Montréal's boroughs (52.2 %) are home to more than half of the members of the Syrian community: Ahuntsic-Cartierville (29.1%) and Saint-Laurent (23.1%). Another 9.0% live in Côte-des-Neiges–Notre-Dame-de-Grâce, 7.3% in Pierrefonds-Roxboro and 7.1% in Ville-Marie.