Public pianos
Outdoor pianos for your enjoyment!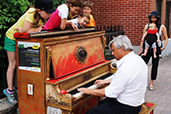 Piano public dans l'arrondissement du Plateau-Mont-Royal
Since 2012, there have been pianos outdoors in Montréal's public spaces in the summertime. They are open to the public – you're welcome to play a few notes! Each instrument is decorated. The initiative, which began in the Plateau, has spread to other boroughs. Discover Montréal's public pianos!
Where can you find public pianos?