Street food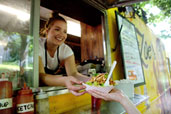 By issuing permits to street food trucks, the city authorizes the sale, preparation and consumption of street food and beverages in the public domain of seven boroughs. From April 1 to October 31, 2016, street food trucks with a permit can sell from 38 locations on 30 different sites.
Boroughs where you can find street food trucks are Rivière-des-Prairies–Pointe-aux-Trembles, Côte-des-Neiges–Notre-Dame-de-Grâce, Le Sud-Ouest, Mercier–Hochelaga-Maisonneuve, Rosemont–La Petite-Patrie, Verdun and Ville-Marie.
Selection process
The city created a selection committee to choose eight food truck operators. The committee was composed of Christine Plante, journalist and author of the book Street Cuisine; Anne-Marie Withenshaw, host of the show "Guide resto voir" on the Évasion channel since 2010 and co-host of the show "À Couteaux Tirés" on the CASA channel and Pasquale Vari, head instructor of the Institut de tourisme et d'hôtellerie du Québec and judge on the show "Les chefs!" from 2010 to 2014. One permit allows each food truck to sell from all 30 sites on a rotating basis.
Please note that other sites can be added over the course of the season. All permits have been issued by Ville-Marie borough.
For more information, visit the l'Association des restaurateurs de rue du Québec Web site.