Street food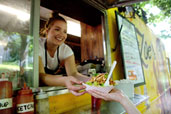 By issuing permits to street food trucks, the city authorizes the sale, preparation and consumption of street food and beverages in the public domain of six boroughs. From April 1 to October 31, 2017, food trucks with a permit can sell from 20 pre-selected locations on 20 sites.
The schedule for the 2017 season will be online at the end of March!
Boroughs where you can find street food trucks are: Le Sud-Ouest, Mercier–Hochelaga-Maisonneuve, Rosemont–La Petite-Patrie, Verdun, Ville-Marie and Outremont.
Selection process
The call for bids for the 2017-2018 season is now complete. The selection committee retained 24 operators in addition to seven that were chosen in 2016. There are now 31 operators that are authorized to apply for a permit this season.
The selection committee for the 2017-2018 season took place on February 6, 2017, and was composed of:
Maxime Gagné, cooking instructor at the École des métiers de la restauration et du tourisme de Montréal and head consultant for Louis-François Marcotte's Cabine M restaurant. He was also chef at the Hangar restaurant.
Nicole Anne Gagnon, kitchen management instructor at the Institut de tourisme et d'hôtellerie du Québec (ITHQ).
and
Geneviève O'Gleman, dietitian/nutritionnist with a bachelor's in nutrition and a certificate in journalism, both from the Université de Montréal. She has written several cookbooks, including Les lunchs de Geneviève, Bonne bouffe en famille, Boîtes à lunch santé and Rapido Presto (Éditions La Semaine). She writes a blog, http://www.bonne-bouffe.com/. On Canal Vie, she hosts "Boîtes à lunch santé" briefs and the series "Les dessous de votre assiette," and co-hosts "Bouffe ou Malbouffe" with chef Louis-François Marcotte. She is also a member of the Ordre professionnel des diététistes du Québec, Dietitians of Canada, the Fédération professionnelle des journalistes du Québec, the Association canadienne pour la presse gastronomique et hôtelière and the Union des artistes.
Please note that other sites can be added over the course of the season. All permits have been issued by Ville-Marie borough.
For more information, visit the l'Association des restaurateurs de rue du Québec's Web site.
.